About Thomas Lawn Mowing service
---
Iuse environmentally friendly electric powered equipment when possible serving Seattle metro King county areas including the eastside Kenmore, Kirkland, Bothell plus places in Snohomish County like Everett vicinity Lake Forest Park, Mountlke Terrrace, Lynnwood, Edmonds, Mill Creek, as well as Marysville. See the list of lawn mowing services areas at the far right of this page. Don't see your location or service? Ask using the contact form in the center of this page.

Fill out the estimate form. Estimates are often times given the same day or very soon after.
Free lawn mowing estimates given the day received or soon after.
Lawns need to be mowed weekly during:

April, May, June peak rainy season rapid growth.
When watered and fertilized and rapid growth.
If and when you want any leaves picked up in the fall.

Season can start as early as February, weather permitting. Mowing continues until after all the leaves after.
Warm winter monthly mows are available for some lawns that need it.
Fall and winter weeding, pruning and garden cleanups.
Dog waste. Contact DogButler.com for dog wate services.
Licensed and insured.
Invoices:

Email invoices sent after last mow of the month.
Paper invoices can be left last mow of the month or snail mailed to address of choice if requested.

Payments

Payments will be by either snail mail checks you send or the ones your bank bill pay sends for you.
Payment needs to be received within two weeks unless otherwise arranged.

The average cost is in the neighorhood of $40 to $45 each mowing. Sometimes the cost might be even less for smaller lawns and sometimes even more for larger lawns. If the lawn has not been mowed for awhile it might cost more the first time. Often times I can guestimate the cost online via the Google and or BING Maps.
NOTE: I communicate and bill via email and not phone or snail mail. If you do not use email effectively in a timely fashion, read and respond, this service might not be for you.
Contact
Use the form to the right.
Phone: four two five - two two zero - zero nine six two
Email: idowebs at yahoo dot com
Looking for weeding and or pruning check with Garden of Weedin

*** Chemicals ***
Please do NOT apply chemicals/poisons etc. to the lawn prior to mowing. It is a hazard to my health and the community. Contrary to TV commercials April and May is NOT the time to be dumping chemicals on lawns unless you are raising grass clippings to sell in markets like a farmer raising and selling lettuce. Lawns grow fast enough in April and May with all the rain etc. Most fertilized lawns are like having a junkie, heroin addict in the yard. Kick the habit. Fall and winter proper applications are more appropriate. Some small amounts of fertilizer can be beneficial in the summer months when hot and watered and advance warning is given to me regarding poisons on a lawn. Contact the WSU King County Extension for excellent professional advice on application of poisons. TIP: Weeds are controlled with regular mowing and proper over all care. Mow often and fewer weeds occur. Plus, mulch type mowing improves the health of the lawn acting like a natural fertilizer for turf.
---
Lawn Mowing Estimate Form
---
Welcome!
Estimate is made at Google Maps with the address supplied below and then sent to you via email.
No one time service at this time.
Weekly mowing April, May and June due to rapid growth.
I can't provide service if there is a locked gate, dogs outside while mowing or dog waste in the yard.
Contact email: Idowebs at yahoo dot com
Thank you very much. I look forward to providing you excellent service.
Tom


* If no, you need to contact your solid waste company about recycle bins or provide an alternative spot.

Thank you very much!
Tom
---
Mulch type mowing is when the lawn is mowed often enough and the clippings are chopped up to leave on the lawn. Mulching works a lot like a juicer leaving little or no trace of grass clippings. The clippings return nutrients to the lawn. They also provide some shade like a shade cloth. Seattle area lawns do best in partial shade. NOTE: Trees on the south side of the yard provide shade keeping the lawn more green with less water and less stress on lawns.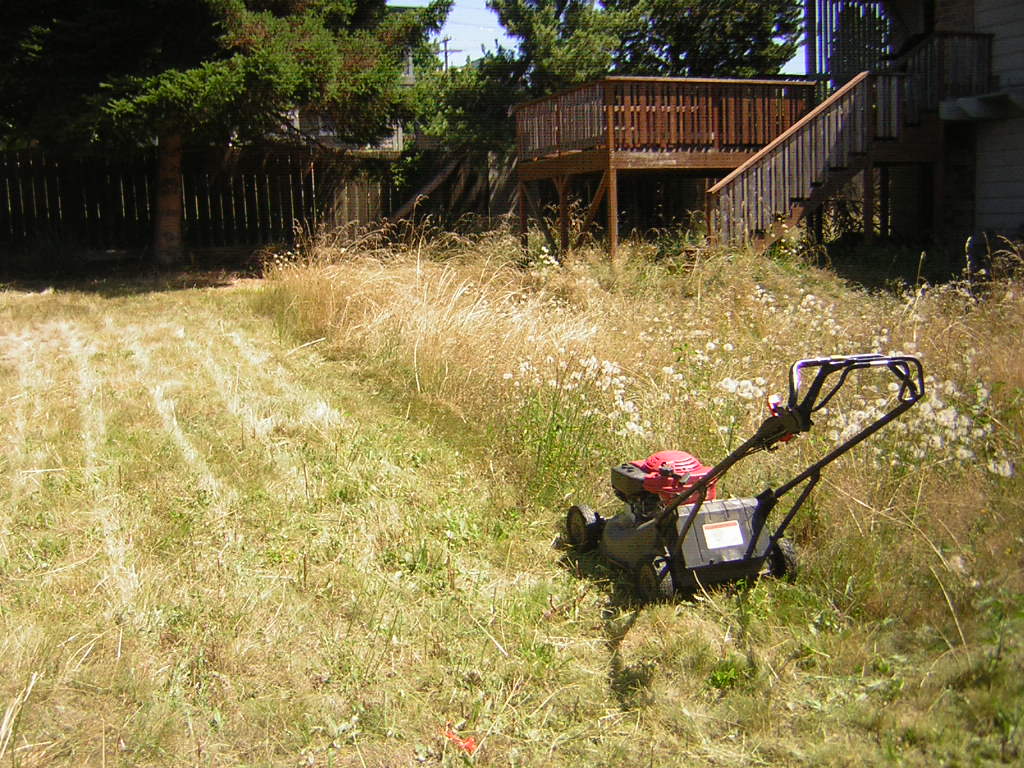 Mulch mowing a REALLY deep mess. Shows how even the worst lawn cleanup can often times be mulched, especially when dry.
Cities Served
---
Bothell
Edmonds
Everett
Kenmore
Kirkland
Lake Forest Park
Lynnwood
Marysville
Mill Creek
Mountlake Terrace
Seattle